Outsourcing assembly and packaging of products to contract manufacturers is very common in the medical device industry.  Most medical device OEMs are adept at designing new products, but their expertise is not in the assembly, packaging, and sterilization of these products.
As a result, they often turn to experienced medical device contract manufacturing companies who specialize in developing a cost-effective and sterile process to assemble their devices and ensure that they are protected throughout the production and distribution process.
With over 40 years of experience working with many different types of medical device companies, we have developed a list of tips to help OEMs find trusted contract manufacturers.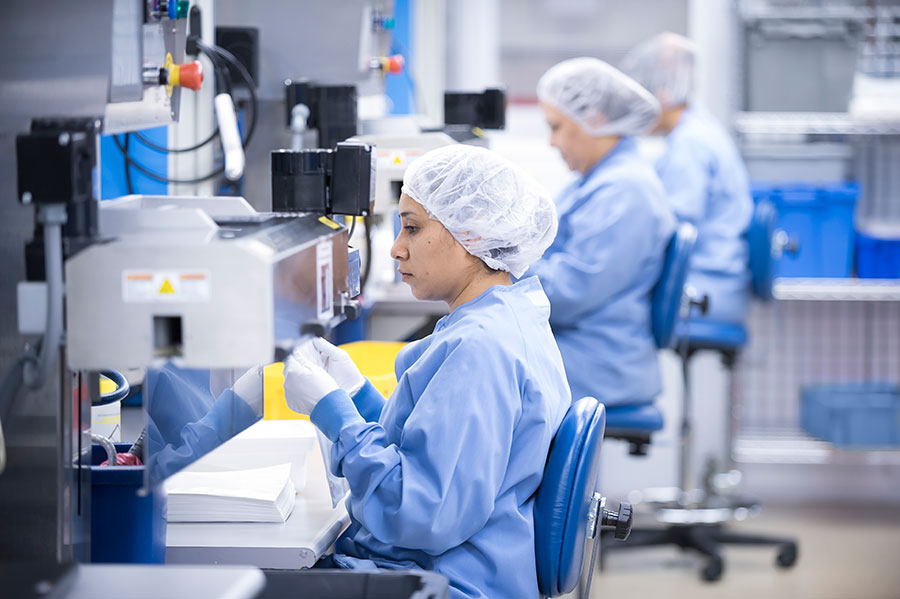 1. What Does a Medical Device Contract Manufacturer Do?
Typically, a medical device contract manufacturing company coordinates packaging, assembly, and sterilization of medical devices. However, there are many different variations of these capabilities depending on the size and complexity of the customer. If we break these functions down, the services usually involve the following:
– the contractor should have expertise in the design of the packaging that will protect the device and keep it sterile for the end customer.  The critical areas of expertise are in packaging design, understanding of the interaction between packaging and sterilization methods, and material costs.
– Good medical device contract manufacturers have several different assembly lines set up in a cleanroom environment and can provide guidance on the most cost-effective way to assemble the device.  A good starting place is to look for an ISO 13485 certification to ensure that the company adheres to quality best practices and standards.
– due to regulatory and environmental concerns, most contract manufacturers do not do their own sterilization in-house.  The most common sterilization methods, EO (Ethylene Oxide) and Gamma radiation, require years of experience, and can be dangerous without the right expertise.  It also necessitates comprehensive state-by-state operator's licenses and regulatory compliance.  As a result, it is most common for a contract manufacturer to work with a third-party sterilizer to manage these specialized services.
2. How to find an Experienced Medical Device Contract Manufacturing Company?
The best way to find a trusted medical device contract manufacturing company is by talking to experienced medical device engineers and quality personnel who have worked with contract manufacturing companies before.  
If you don't know anyone who has already worked with a good contract manufacturer in the healthcare industry, then a quick Google or LinkedIn search is a good way to find an initial list of candidates.  In your search, check to see what capabilities they have.  Ideally, they should include a full range of services including packaging, assembly, validation testing, quality control and sterilization management.
3. What questions should I ask a Contract Manufacturer?
Each project has its own challenges, so it is worth investigating if the contractor has experience working with similar types of devices.  However, many of the questions are the same regardless of the device:
Do they have a good quality process and are they ISO 13485 certified?
How do they communicate challenges?
Do they have a system that provides transparency into the production status of a job?
How well do they understand FDA regulations for medical device packaging?
Do they have good relationships with third-party sterilizers?
4. Partner with an Experienced Contract Manufacturer in the Medical Device Industry
In the niche space of Medical Device Contract Packaging and Contract Assembly, experience counts.  To pay off all the development work that goes into the creation of a new medical device, you want to make sure that you work with a trusted partner who understands how to package, assemble, and sterilize the medical device safely and cost-effectively.
This expertise comes with experience across many different types of devices.  It also requires unique knowledge about which sterilization methods work best with different package materials and densities.  It also demands specific knowledge concerning FDA requirements and compliance, which is gathered over years.
5. Ask the Right Questions and Do your Homework
Ultimately, you are trusting your device to a partner that can demonstrate that they will deliver that device safely to the end patient. Doing your homework and asking the right questions up front will ensure that you pick the partner who is right for your project.
To do this, ask for references – it is always useful to talk to someone who has worked with that contract manufacturer.   See if their experience has been positive and if their product requirements are similar to yours.  
Talk to senior management and get to know them.  You want to understand their philosophy and experience.  Also talk to the team you will be working with day-to-day.  You want to make sure they are well-versed in what they do and that your project will get the attention it requires.
Over the years, we have worked with many different medical device customers in the global market and the common thread of a successful partnership is open communication and trust. We pride ourselves on the long-term relationships we form with our customers, and we become an extended part of their projects and successes. Good luck and let us know if we can help!
How do you find the right Contract Manufacturer?
1. First, you want to establish that they have the Capabilities you need. This is often achieved by talking with engineers, operations, and quality assurance people involved in the manufacturing process. Checking for ISO 13485 certification is also another clue that they have good quality processes in place.
2. Transparency & Communication – how clearly are they able to articulate their recommended packaging solution and why it is appropriate for their device. Also, can they clearly communicate timing and pricing and help you understand the rationale behind each key component.
3. Site Visit & Rapport – we always encourage prospective customers to come to visit our manufacturing facilities and see the operations and equipment firsthand.  It helps demonstrate our capabilities in action, they meet the broader team in one roof, and they can see if there is a rapport.
4. Cost & Timing – after all the questions above have been addressed, then it usually comes down to cost and timing.  These are both project-specific so there is no general rule, but don't fall into the trap of going with the lowest cost provider based on empty promises.  Do your homework and find the best all-around partner you can trust.
Why do I need a Contract Manufacturing Company for my Medical Devices?
Expertise – the number one reason is expertise. A good medical device contract manufacturer has experience navigating FDA requirements, developing packaging, working through sterilization issues, and hiring a team with the right assembly skills. We often see customers come to us after having tried to set all this up by themselves, only to determine that they don't have the right experience and skillsets in-house.
Cost Savings – there is significant investment in setting up your own cleanroom and assembly lines. You bear 100% of the cost when you do it yourself, and the investment happens long before you see any revenue.  Whereas medical device contract manufacturers have already-established facilities and a broad range of equipment to assemble sterile packaging and you don't have to absorb the investment to set up new production lines and hire staff.  Additionally, they have expertise in how to cost-effectively set up the assembly process.
Time – often a contract manufacturer can get you to market more quickly because they have the experience, established assembly lines and cleanrooms, and they have the supply chain relationships to order components and sterilize your device.