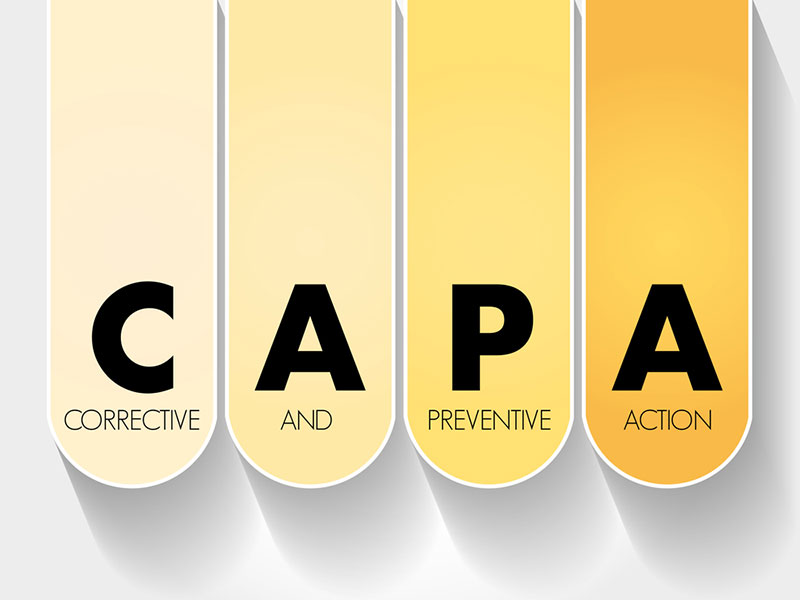 An Introduction to Medical Device Contract Manufacturing
A good medical device contract manufacturer must have a rigorous quality system in place to ensure that the device is protected and safe for use.  Part of that system should include a detailed corrective and preventive action process outlined clearly in its Standard Operating Procedures.
What are Corrective and Preventive Actions (CAPA)?
CAPA stands for Corrective Actions and Preventive Actions.  It is not just a task, but also a system and a way of thinking.  A true and robust CAPA system encompasses all the mechanisms and data sources that a sound quality system uses to monitor the quality of people, processes, products, and problems.
For a quality system to be self-correcting, data on nonconforming products and quality problems from all sources is to be fed into the quality system for analysis then subsequently corrected through corrective action and/or preventative action.
How does CAPA Work in Medical Device Contract Manufacturing?
There are generally three actions that can be taken to address non-conformities.
Corrective Actions

These eliminate the cause of detected non-conformities in order to prevent recurrence. The decision to open a corrective action should be risk-based and proportionate to the effects of the non-conformities. Appropriate statistical methodology should be employed where necessary to develop robust detection and verification methods.
Preventive actions

These ones eliminate the POTENTIAL cause of non-conformities in order to prevent their recurrence. These actions generally arise from quality system inputs that have the potential to cause a non-conformity. Similar to corrective actions, preventive actions should use a risk-based approach and be proportionate to the effects of the potential problems.
Correction

A correction only corrects the detected non-conformity and does not address future recurrence. This can be paired with a corrective or preventive action in order to prevent recurrence.
It is also important to note that all employees have the responsibility to identify any potential CAPAs. Everyone must take ownership over quality, and we try to install that in everyone through training and behavior modeling by senior management.
Investigation and Root Cause Analysis in Medical Device Contract Assembly
After it is determined that a CAPA needs to be recorded in the quality management system, then the Quality Assurance team sets out to investigate the issue and determine the root cause.  
In medical device contract assembly, there are many variables and potential contributors to an issue.  It could stem from the components that come from an outside supplier of the medical device, it could be the environment where the assembly is being performed, or it could be faulty machinery or an operator not following assembly instructions.  
In the medical device industry, the Quality Assurance team sorts through the variables to identify the root cause.  For our process, we require specific details and record them as part of the CAPA report:
Origination – we record the events and details regarding the issue. We also document the information by Department, Type, and Category to categorize for future trending.
Investigation – we describe the problem in detail and outline the root cause. Analysis is done using one or more of the following analysis tools, and incorporating data wherever possible and appropriate:

The "Five Whys" Analysis
Fishbone
Pareto Chart
Scatter Diagram
Action Plan
From the investigation, the team discusses potential corrective or preventive actions and may test several theories before recommending a final action. It may also be deemed that the problem can be prevented by implementing certain process changes and/or working with a supplier before the components are even shipped to us.
Implementation and Effectiveness Verification
Once the action plan is agreed upon by the team, then the specific implementation steps will be outlined, and the recommendations will be put into effect.  The team will closely monitor the implementation and will verify that the change is effectively working as intended and does not have any adverse consequences to the finished product.  There will also be a follow up verification to prove the effectiveness and repeatability of the solution over time. 
Again, the entire team is responsible for monitoring the change and determining if everything is working as intended.  That is why it is important to hire and train people who accept the responsibility of assembling and packaging a high-quality finished product.
Choosing the Best Medical Device Contract Manufacturer
As a medical device manufacturer considering outsourcing the assembly and packaging of your device, there are several key considerations when evaluating the best contract manufacturer.
Experience – one of the critical aspects of medical device packaging is whether the contractor has experience assembling and packaging devices like yours. There are many different aspects to be aware of, including the type of materials, the complexity of the assembly, the type of sterilization, and the supply chain.  PRO-TECH Design has over 40 years of experience specifically working with medical device manufacturers to assemble, package, and sterilize their devices.
Commitment to Quality – identify a component supplier who has a robust quality system in place, including highly trained and experienced personnel, an established CAPA system, and a clear emphasis on quality throughout the organization. Checking that they are ISO 13485 Certified is also a good first step to see that they have been vetted by a respected verification body to determine that they adhere to international quality standards.
Systems & Structure – to implement a robust quality system, the contract manufacturer should be able to show you the systems they have in place to identify, analyze, and rectify any CAPA issues. It is also worth talking to the Quality department to get a sense of how they are structured and how they ensure the quality production of medical devices like yours.
Contact Us
PRO-TECH Design & Manufacturing is a woman-owned full-service FDA- and ISO 13485-registered medical device contract manufacturing and packaging company headquartered in Santa Fe Springs, Calif. Founded in 1980, PRO-TECH Design specializes in medical device contract assembly, contract packaging, sterilization management, and laboratory services. As a leader in the industry trusted by multiple Fortune 100 companies, the company has a presence in three key regional markets – California, Minnesota, and Texas.
MEDICAL DEVICE PACKAGING FAQ
How do you find the right Contract Manufacturer for Medical Devices?
First, you want to establish that they have the capabilities you need. This is often achieved by talking with engineering staff, operations, and QA.  Checking for regulatory requirements and an ISO 13485 certification is also another clue that they have good quality processes in place.
Transparency & Communication – how clearly are they able to articulate their recommended packaging solution and why it is appropriate for their device? Also, can they clearly communicate timing and pricing and help clients understand the rationale behind each?
Site Visit & Rapport – we always encourage prospective customers, partners and clients to visit our facilities and see the operations and our manufacturing process firsthand. It helps demonstrate our capabilities and equipment in action, they meet the broader team, and they can see if there is a rapport.
Cost & Timing – after all the questions above have been addressed, then it usually comes down to cost and timing. These are both project-specific so there is no general rule, but do not fall into the trap of going with the lowest cost provider based on empty promises.  Do your homework and find the best all-around partner you can trust.
Why should I pay for a contract manufacturer to assemble my medical device? 
In a word: expertise. A good medical device contract manufacturing business has already invested in a clean room with dedicated assembly lines. They have assembled and packaged a variety of medical devices and should have a good understanding and proven expertise of what works and what does not.  And they know how to do it efficiently with adherence to rigorous FDA quality standards.
Ultimately, it may be less expensive (and less painful) to outsource your medical device assembly, rather than undertake all the investment in facilities, training, manufacturing and machinery yourself, particularly for an unproven device where you do not have a history of consistent orders.
What are the key considerations in medical device contract assembly?
The key considerations for an OEM in choosing medical device manufacturing partners are the quality of the contractor's facilities, people and control processes. Most of these factors are influenced by years of experience in the medical device space and an understanding of where the pitfalls lie.  They should have a very good understanding of the FDA regulations, production costs, follow good quality practices and are aware of other conditions that affect medical device production. They should also have made a significant investment in a qualified clean room with multiple assembly lines and a highly-trained efficient staff.

Finally, how well do they understand the whole process? They should be able to bundle packaging decisions, assembly production, sterilization management specifications, diagnostic testing and shipping services so that they all work in concert to deliver a fully-protected and sterilized device to the end patient.