MEDICAL DEVICE CLEANING AND PASSIVATION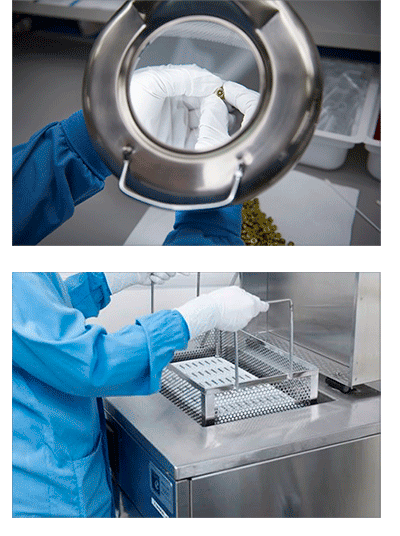 PRO-TECH delivers the latest in cleaning and metals passivation to ensure the highest quality standards for you medical device.
Our cleaning systems feature advanced technology and are fully automated. Our engineers and on-site machine shop can create custom fixturing to guarantee process efficiency.
Cleaning processes are a balance between managing risk and cost. With years of medical device experience, our staff ensures that your cleaning process meets the device needs, without adding unnecessary cost of overprocessing.
All cleaning and passivation systems are located inside our Certified Class 10,000/ISO 7 cleanrooms to ensure your products are packaged without risk of recontamination.
Our in-house laboratory performs full cleaning validations and TOC (Total Organic Carbon) testing on premises to guarantee the utmost cleanliness.
Cleaning Options Include:
IPA Dip or Wipe
Ultrasonic Cleaning (Laboratory Scale or Fully Automated)
Detergent Cleaning (Fully Automated)
Citric Acid Passivation (Fully Automated)
Nitric Acid Passivation
For more information on our medical device cleaning and passivation capabilities, please Contact Us today.
Our Locations
CALIFORNIA
14561 Marquardt Ave.
Santa Fe Springs, CA 90670
TEXAS
4041 Express Street
Arlington, TX 76001
MINNESOTA
292 E. Lafayette Frontage Road
St. Paul, MN 55107
Please let us know what you're interested in: