"It's when things change midstream that you find out if your contract manufacturer has the flexibility, creativity and motivation to seamlessly adapt. Time and again, PRO-TECH has risen to the challenge and proven to be a valuable business partner."
Dave Balzer, Medical Device Company Owner
MEDICAL DEVICE ASSEMBLY & PACKAGING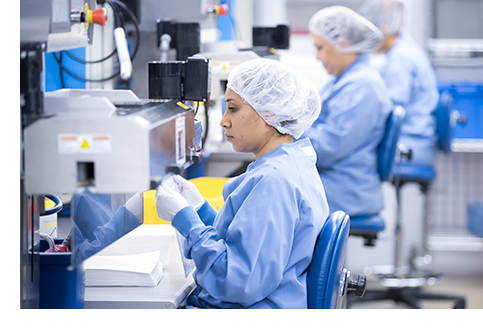 PRO-TECH offers a full range of medical device assembly and packaging services to meet your needs. We package solid and liquid medical products from primary to final package. We reduce your costs and time to market with a variety of validated stock packaging components.
PRO-TECH has over 6,000 square feet of certified Class 10,000 Cleanroom space dedicated to medical device assembly and packaging. Your products can be cleaned, assembled, packaged and labeled in the same facility, ensuring the highest level of quality.
With 100,000 square feet of manufacturing and warehouse space, we can serve the needs of both large and small customers. We have FDA-Registered facilities in both Santa Fe Springs, CA and Arlington, Texas to provide flexible production capabilities and second source manufacturing.
Our customers have 24/7 access to order and inventory status via Custom Web Portals and can have product stocked and shipped from our dedicated distribution facility.
Please check out our range of services by clicking on the links below.