12/16/2020 Update
Given the increase in COVID cases around the country, we wanted to provide an update as we close out 2020. We continue to be vigilant about cleaning, mask-wearing and social distancing protocols to keep our employees safe and to maintain operations. PRO-TECH will be operating through December 23rd, when we close for our annual holiday shutdown. We will fully re-open January 4th. During the shutdown window, we will continue to service customer orders, but on a limited basis as we provide our employees a well-deserved rest.
Happy Holidays! Stay safe.
9/18/2020 Update
Thankfully, there isn't much to report. PRO-TECH continues to operate at full capacity with no operational interruptions. In fact, we have tried to utilize this situation to reimagine some of our operations and look for ways to innovate and improve. With that mindset, we have invested in new capabilities, streamlined some of our processes, and are enhancing our work environment. Please ask us about these if you'd like to know more.
And, most importantly, we continue to enforce strict cleaning and social distancing protocols to keep our employees and customers safe. If you have any questions, please don't hesitate to contact us. Stay safe.
7/17/2020 Update
Unfortunately, as you know, the number of COVID-19 cases in the United States has been increasing and States are rolling back some of their guidelines for re-opening. This is particularly true in California and Texas where PRO-TECH has manufacturing facilities. As a result, we wanted to provide you with another update on our operational status at this point in time. We continue to be fully operational and all production lines are running.
Additionally, since our last update, we have expanded our manufacturing space and have moved our sewing operations into a new building. This has enabled us to spread out even more and create even greater social distance between employees. Finally, we are maintaining extensive cleaning protocols, have increased our employee training and communications, and are encouraging teammates who can work remotely to do so. If you have any questions, please don't hesitate to contact us for further information. Stay safe.
6/15/2020 Update
As many States are loosening COVID-19 restrictions and more people are returning to work, we thought it appropriate to provide a new status update. PRO-TECH continues to be fully operational in both our Santa Fe Springs, CA and Arlington, TX locations. We have outlined several operational and training procedures to ensure ongoing production continuity and to adjust to the new phase as needed.
Specifically, we have taken the following steps:
• Cleaning: we have enhanced our cleaning procedures to ensure that our facilities are being cleaned and disinfected continually.
• Training: we have trained all of our employees to take the proper precautions to prevent/reduce spread of the disease. Training has included outlining guidelines for social distancing, wearing a mask, frequent hand washing, and reminders not to come into the office if an employee experiences any COVID-like symptoms.
• Office Protocols: we have eliminated in-person meetings and all meetings are conducted virtually.
• Remote Work: we have enabled employees to work remotely when possible and have offered staggered schedules to reduce direct contact.
• Spacing: we are in the process of moving our sewing operations to a new building to increase physical distancing of workstations for all departments.
• Ongoing: as a leadership team, we meet weekly to discuss the situation and adjust as needed
As a result of all of this, we stand ready to handle any outcome from this new phase and plan to maintain full operational status for our customers.
5/1/2020 Update
As of Friday, May 1, 2020, PRO-TECH remains fully operational with no delays to production or customer care. We will stop providing weekly updates at this point, but if you have any questions, please contact us. Stay safe.
4/24/2020 Update
As of Friday, April 24, 2020, PRO-TECH remains fully operational with no delays to production or customer care. Stay safe.
4/17/2020 Update
Let's make some masks! As it became clear that there was a severe shortage of face masks, we realized we could use our sewing capabilities to help out. Typically, we sew medical device cases and wearables, but we recognized that we could help our local community and customers by quickly pivoting some of our production capability to sew face masks.
These types of masks are needed to protect grocery workers, delivery people, charity volunteers, and healthcare administrators – some of the unsung heroes on the front lines. To date, we have donated nearly 3,000 masks to customers and to our local community of Santa Fe Springs, CA.
We are so proud of the response and effort from our PRO-TECH team! They have not only taken on this new challenge, but continue to produce and assemble products as usual for our medical device customers to ensure that they have the products they need to help patients.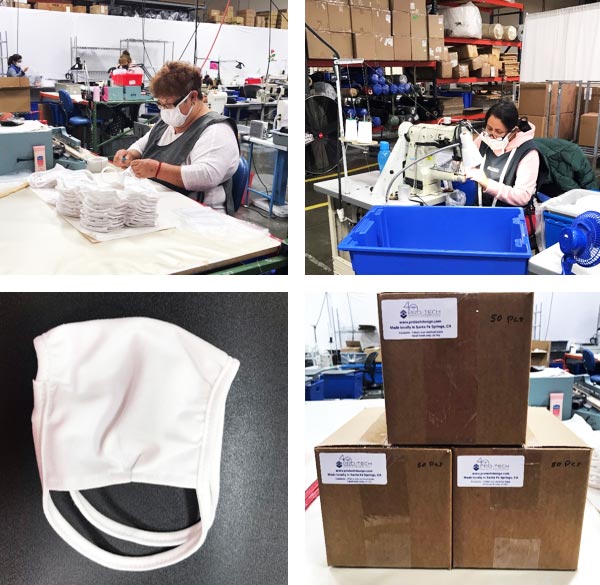 4/10/2020 Update
As of today, Friday, April 10, 2020, we are pleased to report that we remain in full operation in all facilities. Thank you to our associates and our customers for pulling together during this crisis. We couldn't be more proud to work with all of you. Stay safe and please contact us if you need anything.
4/3/2020 Update
To our valued customers, we hope you are staying safe throughout this crisis. As of today, Friday, April 3, 2020, we are pleased to share that PRO-TECH remains in full operation in all facilities.
Our team has done a fantastic job adjusting to the new situation and we are very proud of the way they've responded and carried on the essential work for our customers.
On a personal note, we've spoken to many of you and it's been inspirational to witness the communal spirit everyone is sharing as we navigate this together. We appreciate your partnership and will continue to work closely with you to get through these strange times.
If you need anything, please continue to reach out to us and we'd be happy to talk about your individual situation.
Stay safe.
Aaron Swanson,
President
3/27/2020 Update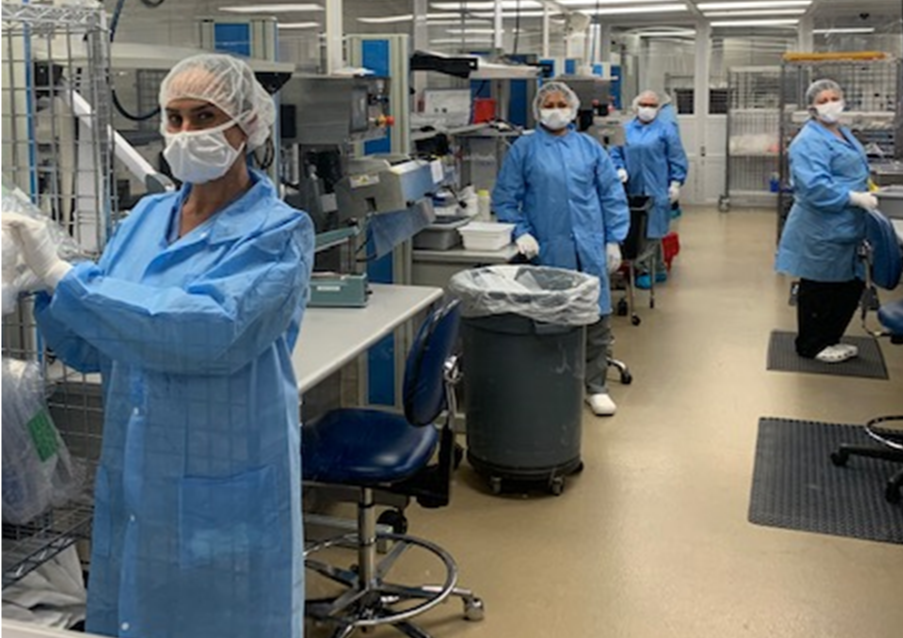 From all of us at PRO-TECH we want to thank our customers for their loyal support during this crisis. As of today, Friday 3/27/2020, I am pleased to report we remain in full operation in all facilities. With non-essential staff working from home the offices are a little quiet, but the manufacturing continues with minimal impacts. Our supply chain, including sterilization and laboratories remains fully operational.
We've adjusted some processes and moved things around to maintain social distancing, but our crew has quickly adapted. Our employees realize the critical impact they have on the healthcare industry and have stepped up. I couldn't be more proud of our team!
PRO-TECH is an essential business and its operations constitute essential critical infrastructure as described in the Department of Homeland Security Memorandum on Identification of Essential Critical Infrastructure Workers During Covid-19 Response, issued on March 19, 2020 (https://www.cisa.gov/identifying-critical-infrastructure-during-covid-19).
PRO-TECH's operations are also exempt from the State of California Stay Home Order (Executive Order N-33-20), https://covid19.ca.gov/stay-home-except-for-essential-needs/#health, issued on March 4, 2020.
Aaron Swanson,
President
3/23/2020 Update
To our Valued Customers,
We wanted to give our customers an update on our COVID-19 status as of Monday, 3/23/2020. Although the state of California is under a stay at home order, PRO-TECH continues to operate under the Essential Functions exemption for Healthcare.
As of today, all lines are functioning at full capacity, both in California and Texas. We don't anticipate a government order that would shut down our business, but we could see a reduction in labor force in the coming days or weeks. In this case we would prioritize all Medical Devices, especially those with direct ties to COVID-19 related patient care.
To protect our workforce, we've taken the following additional steps:
• All meetings shall take place virtually, without physically gathering in conference rooms
• Our facilities are continually being cleaned and disinfected
• Social separation is being maintained for all staff
• Non-essential staff are working from home
Management will continue to monitor the situation and make appropriate steps as necessary. And, we will continue to reach out to you personally to provide updates.
We appreciate and thank-you for your continued support.
Aaron Swanson,
President