Let's start at the beginning and define our topic – "Contract Assembly" refers to an OEM (Original Equipment Manufacturer) outsourcing the assembly of a medical device to a third-party. A select group of companies called Contract Manufacturers provide this unique service specifically for the medical device industry.
Typically, they have dedicated facilities featuring cleanrooms where they can control the environment where the device is assembled and limit the number of potential contaminants to ensure that they meet the appropriate standard. It is a very niche service offered by a limited number of companies, but it is a critical component in the success of many medical devices.
In this article, we will outline the essential components to consider for medical device contract assembly.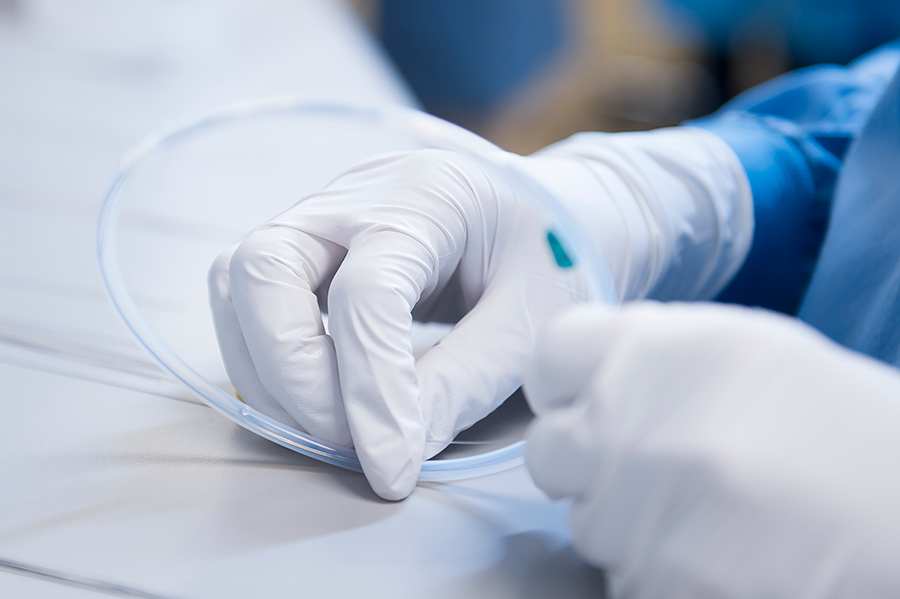 Dedicated Class 10,000/ISO 7-Rated Cleanroom
Many OEMs and medical device companies start the process of finding a qualified contract manufacturing partner by searching for a dedicated cleanroom environment with the appropriate ISO standard.  Cleanrooms are rated by different classifications, whose regulatory requirements are established by the International Standards Organization (ISO).  Each classification refers to the number of particles allowed per cubic foot within a cleanroom.  
To maintain this standard, the facility should be continuously monitored and certified by an outside laboratory.  For most medical devices, the cleanroom standard is Class 10,000/ISO 7.  This means the environment must contain less than 10,000 particles per cubic foot.  For comparison, most office spaces have between 500,000 and 1 million particles per cubic foot.
ISO 13485 Certification
Once the cleanroom ISO classification is identified, the next step is to review how the contract manufacturer maintains this classification through things like:
Quality standards and adherence to quality protocols
Type of Air filtration systems (HEPA)
The Frequency of air exchange  
An experienced medical device contract manufacturer is well-versed in maintaining a rigorous quality management system with procedures to maintain the cleanliness of the manufacturing environment.  A good signal for this is whether they are ISO 13485 certified, which is verified by an objective, accredited governing body to determine whether they are adhering to the appropriate quality standards.  
Flexible, Scalable Medical Device Contract Manufacturing
Within a cleanroom focused on medical device assembly, there are often multiple production lines established to assemble different kinds of devices.  For example, there may be an automated form-fill-seal line, pouch sealing lines, or manual assembly stations designed for complex assemblies.  
It can be helpful to look for a medical device contract assembly partner that offers a range of assembly techniques and production lines so that they can easily adjust to whatever the OEM's specifications are.  Production flexibility may also signal that they can quickly set up the assembly process and quality standards required in less time and at less upfront cost.
Additionally, you should also consider a contract manufacturer's ability to scale production for future growth.  Hopefully, your product will be successful, and you want a partner who can grow with you.
Training Standards
How well trained are their employees?  Experienced contract manufacturers know the value of maintaining robust training standards and hiring a long-term, dedicated workforce.  Quality performance, cost efficiencies, and production standards can often be traced back to consistency in training and how well the assembly process has been laid out.  
Efficient contract assembly is a collaboration between quality management standards, optimized time-study assembly, and well-trained employees.  When a medical device OEM is evaluating a contract assembly partner, it is often helpful to see their facilities in-person and to talk to several layers of employees from management down to production supervisors.
Blending Technology with Human Factors
Automated technology and the right level of investment for a project is another signal that a contract assembly company has experience and can provide efficient service.  There isn't one right answer to the level of technology required and this part is as much art as science because the human factor consideration and training discussed above shouldn't be overlooked. 
Ideally, a well-trained staff works seamlessly with automation at the right points in the process, blending the best of human experience with efficient technology in an ongoing and continuous improvement process.  When this all comes together, the OEM should receive the optimal mix of quality assurance, low costs, and production flexibility.
Customer Transparency
At Pro-Tech Design & Manufacturing, Inc., we encourage potential clients to see how we provide customer transparency during our assembly process.  We provide each customer a dedicated portal with data collection tools that they can use to track their jobs 24/7.  This private, continuous production view gives them the added piece of mind that their jobs are progressing as intended and they appreciate the added visibility it provides.
Connection Between Medical Device Packaging & Assembly
Finally, there is a natural connection between the assembly of a medical device and the final packaging that protects the device from the assembly line to the patient.  As a result, most medical device contract manufacturers provide both packaging and assembly as part of their value-added services.  They have expertise in which packaging type and material will best protect the medical device and which assembly process will work most efficiently with the packaging.  
From there, they usually coordinate sterilization of the final, packaged device and also manage shipping and distribution once the device comes back from the sterilizer.  This all-in-one service bundle enables the OEM to focus on medical device design process and engineering, leaving packaging, assembly and sterilization to a contract manufacturer who has specialized expertise in these areas.  
Why should I pay for a contract manufacturer to assemble my medical device?
In a word – expertise. A good contract manufacturer has already invested in a cleanroom with dedicated assembly lines. They have assembled and packaged a variety of medical devices and should have a good understanding of what works and what doesn't. And they know how to do it efficiently with adherence to rigorous FDA quality standard
Ultimately, it may be less expensive (and less painful) to outsource rather than undertake all the investment in facilities, training, and machinery yourself, particularly for an unproven device where you don't have a history of consistent orders.
What are the key considerations in medical device contract assembly?
The key considerations for an OEM in choosing a contract manufacturer are the quality of the contractor's facilities, people and control processes. Most of these factors are influenced by years of experience in the medical device space and an understanding of where the pitfalls lie. They should have a very good understanding of the FDA regulations and follow good quality practices for medical device production. They should also have made a significant investment in a qualified cleanroom with multiple assembly lines and highly-trained staff.
Finally, how well do they understand the whole process? They should be able to bundle the packaging decisions, assembly production, sterilization management and shipping services so that they all work in concert to deliver a fully protected and sterilized device to the end patient.