PRO-TECH Design & Manufacturing, Inc. is returning to its roots in Minnesota.  With the acquisition of Surgical Technologies, Inc. (STI), PRO-TECH owners are deepening ties to their home state of Minnesota. The founder and CEO, Pam McMaster, started her career in medical device packaging in the state and served as President of the Minnesota Society of Packaging and Handling Engineers.
Her son, Aaron Swanson, serves as President of the company and holds a B.S. in Biology from the University of Minnesota.  Pam's other son, Jeff Swanson, is Vice President of Sales and has lived in Minnesota for most of his life.  He will be based in the new St. Paul location.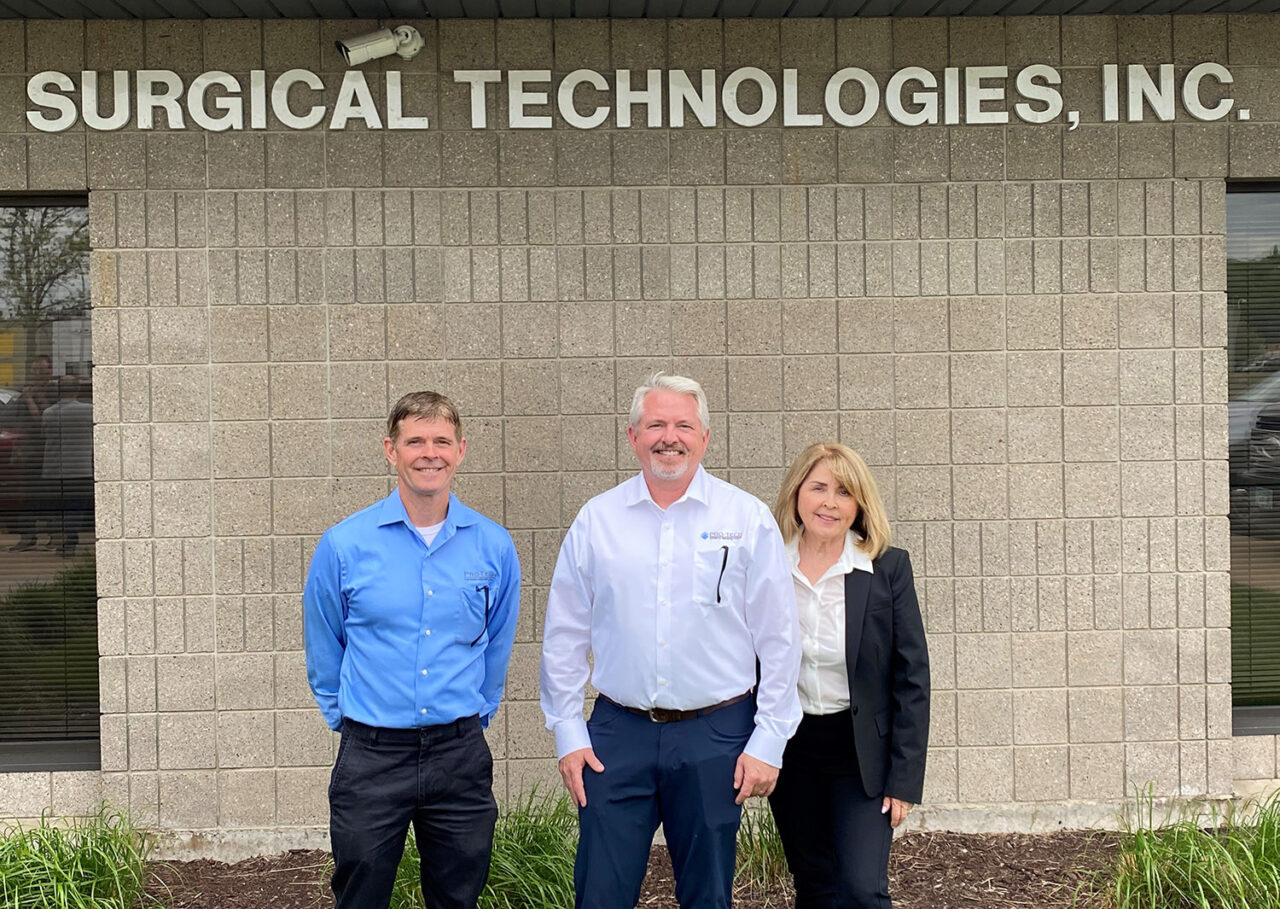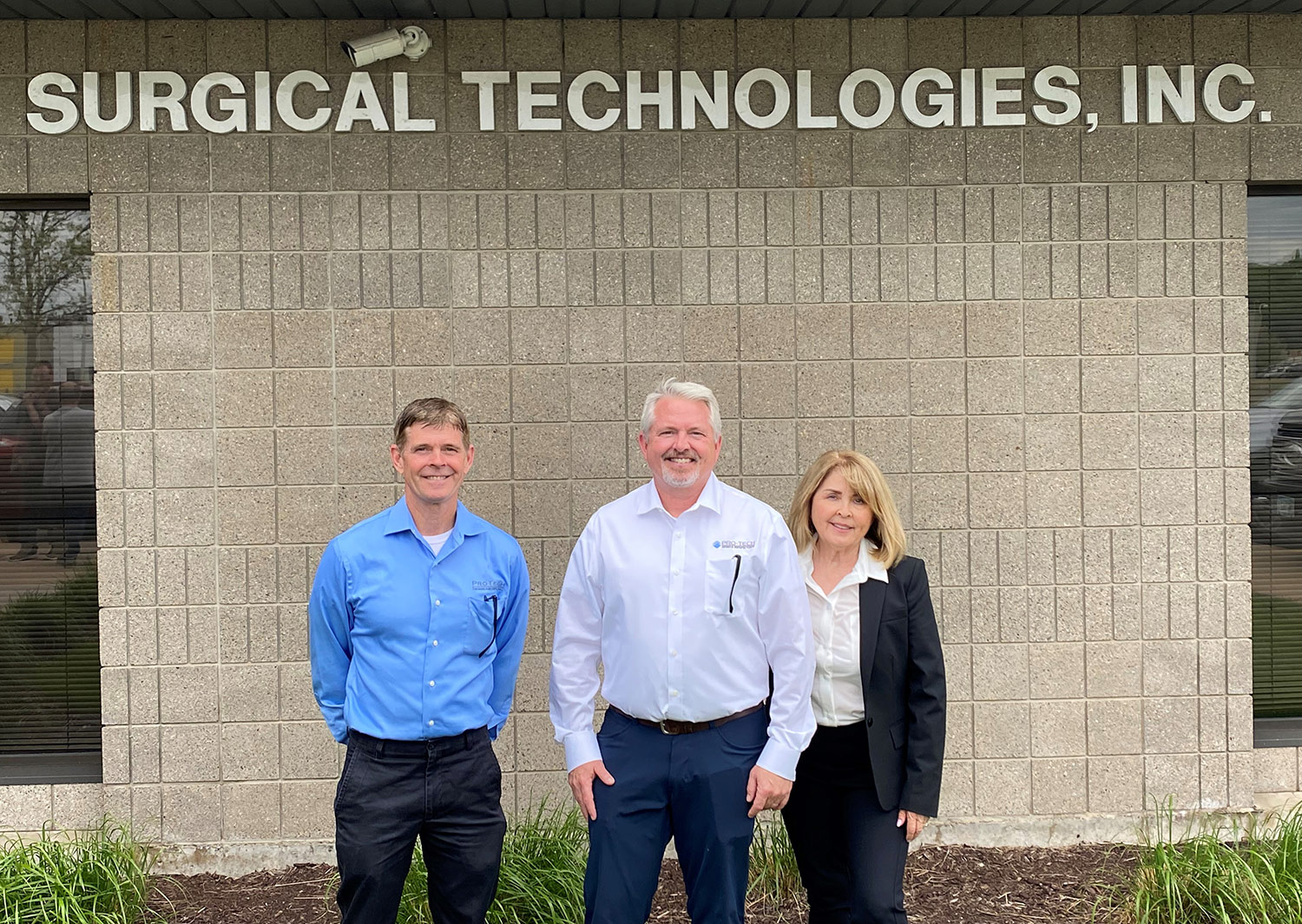 Photo: PRO-TECH Design owners Jeff Swanson, Aaron Swanson, and Pam McMaster
The conversation about acquiring STI started with a phone call unexpectedly from an investment banking firm.  However, as it became clear who the company was, where they were located, and the shared values the two companies had in common, it became an increasingly exciting proposition. 
"Once we met the Scanlan family and started to have serious conversations about acquiring STI, it became very clear that this was a solid company with really good people, and there were a lot of synergies between the two companies that made it feel like an excellent fit."
Both companies are family-owned and have a long history in medical device contract manufacturing.  PRO-TECH Design is based in Southern California and has another manufacturing facility in Arlington, TX, while STI is based in St. Paul, MN.  As a result, there was minimal overlap in regional markets, but a lot of complementary capabilities in medical device packaging, assembly, and sterilization. 
The blending of the two provides broader national coverage without sacrificing the company's strong commitment to quality, customer service, and a wealth of expertise in medical device packaging and assembly. 
"We think the combined entity will provide great benefits to our customers and allow us to expand further into the important Minnesota medical device market with a local presence.  We could not be more excited."
With the addition of STI, PRO-TECH Design will be one of the largest family-owned medical device contract packaging companies in the country.  The company will have a local presence in some of the most important medical device markets in the United States, and by having three distinct manufacturing locations, it will provide a second source of reliability and assurance to its customers.  STI is ISO 13485 certified and has multiple Class 7 and 8 cleanroom environments to meet the needs of any medical device customer.
STI will be rebranded as PRO-TECH Design & Manufacturing, Inc., and the transition will happen over the coming months.  To see the official press release, please click on this link.
Stephens Inc. served as the exclusive financial advisor to Surgical Technologies, Inc. on the transaction.
ABOUT PRO-TECH DESIGN & MANUFACTURING, Inc:  PRO-TECH Design & Manufacturing is a woman-owned full-service FDA- and ISO 13485-registered medical device contract manufacturing and packaging company headquartered in Santa Fe Springs, Califindustry trusted by multiple Fortune 100 companies for unmatched service, high-quality products, and fair pricing, the company has a presence in three key regional markets – California, Minnesota, and Texas.