Packaging validations are a critical part of the overall medical device packaging process. Validations ensure that the packaging material, sealing processes, handling and distribution meet appropriate standards to protect the integrity of the packaging and its contents.
Every process has some degree of variability. However, high quality medical device contract manufacturers have experience in managing that variability through process controls, packaging choices, and effective measurement tools.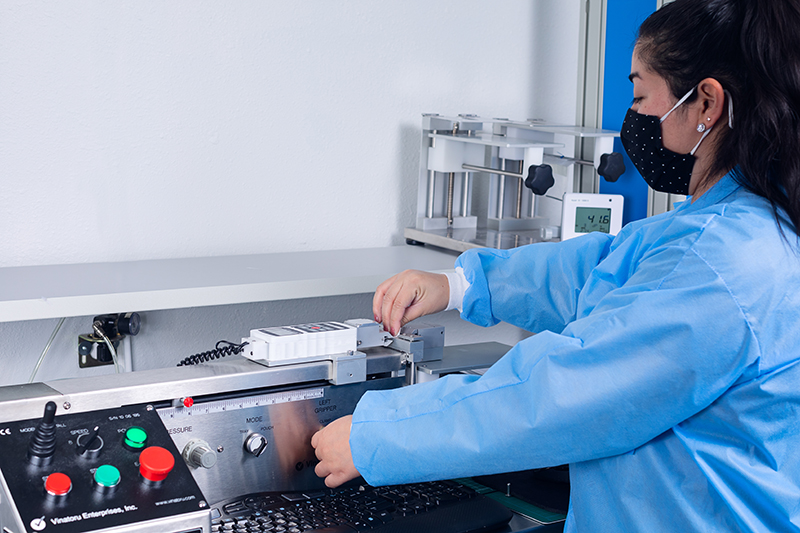 In this article, we will delve into the essential elements of medical device packaging validation and highlight the key capabilities that a contract manufacturer should have in order to effectively verify that the final, assembled, packaged and sterilized device is effectively protected throughout the entire production process for eventual delivery to the end patient.
Let's start with what needs to be measured and how the standards are established…
1. ISO 11607
The ISO 11607 standard sets the requirements for packaging for terminally sterilized medical devices.  These requirements establish the industry standards that medical device contract packaging companies must follow to design the appropriate packaging and the accepted validation methodologies.  Per the ISO standard, the testing governs "materials, preformed sterile barrier systems, sterile barrier systems and packaging systems that are intended to maintain sterility for terminally sterilized medical devices until the point of use".
All of the elements that we will discuss in this article come back to the testing requirements established in the ISO 11607 guidelines.
2. Baseline Studies
Once the sealing equipment is qualified and validated for use, packaging validation begins with establishing optimal sealing parameters. Based on their own experience and input from the customer, the contract manufacturer develops a process to establish a measurement baseline against which all future testing can be measured. This is an important step to identify and control materials and processing variables that may impact the production process and cause the packaged device to fall outside the performance standards established.
Experienced medical device contract manufacturers typically have a rigorous Design of Experiments methodology to study and measure the relationship between various input factors that may affect the process and track the impact on the final assembled and packaged device.
3. Aging Studies
Real-Time and Accelerated Aging studies are conducted to verify that the packaging will remain stable throughout the established shelf life of the device. Due to time-constraints, accelerated aging may be done in conjunction with real-time aging to enable the device to be cleared for launch more quickly. This does not mean that any safety or quality standards are relaxed; rather it points to the importance of experience in identifying the appropriate temperature, humidity and storage conditions that the product will likely be subjected to. These conditions will be used to set the aging conditions and to determine how effectively the packaging withstands those environments. All of these are designed to ensure that the packaging maintains its integrity and continues to protect the medical device for its full, intended shelf-life.
4. Distribution Studies
Another important validation test is to determine how well the packaged device will manage the distribution process. During the course of the process, the packaged device has to travel from a production facility to a warehouse to the sterilizer (and back), and finally to be shipped to the end customer. Each step has an impact on the integrity of the package and the device inside. It is vital to establish process control around typical distribution conditions and to determine the acceptable minimum and maximum range of variability. In this way, the contract manufacturer can track any variances that might impact the integrity of the product and packaging and can use this to quickly isolate key factors that may need to be modified. Effectively managing the process and testing comes with years of experience and knowing what to plan for.
5. Types of Validation Tests
To conduct the necessary validation studies, it is a real advantage to work with a contract manufacturing company that has an ISO 17025 accredited lab on-site. It is a signal that they have experienced engineers, microbiologists and lab technicians that understand validation testing. Additionally, it is a good indication that they value testing and have made the investment to build a high-quality laboratory.
Some of the tests used to validate the integrity of the packaging include:
Seal Strength – these tests are intended to measure the strength of the packaging seals and adhesive. Two different tests often used are: 

Peel Strength test – a strength test is a mechanical test that measures the force required to peel open the package. This requires dedicated machinery to ensure consistent force is being applied and trained technicians to run the testing protocol. The packages are tested to ensure they meet or exceed a minimum peak force.
Burst test – this test involves using a burst of air to measure the impact of changing pressure on the seal of the packaging. Again, the packages are tested to ensure the burst test meets or exceeds the minimum burst value for the particular packaging.
Packaging Integrity – these tests are performed to determine the integrity of the packaging itself:

Visual inspection – this is performed by an experienced lab technician to look for any physical damage or imperfections on the packaging. It sounds simple, however, it helps to have someone who is experienced and has the proper training, because they know what type of defects can lead to a breach in the package integrity.
Bubble emission – this test looks for leaks in the packaging by pressurizing the package while immersed under water and checking for a stream of bubbles.
Can I do packaging validation testing myself?
Yes, you can, but there are significant risks. You must have a good understanding of the ISO 11607 requirements. You have to have the appropriate equipment and people to consistently apply the appropriate validation tests. And, finally, you have to have very operationally sound control processes and measurement capabilities in place to capture the necessary data and continually monitor and record the performance of your packaging.
All in all, it is a very complex undertaking and not one you should take lightly. That is why many OEMs choose to outsource packaging and assembly completely to an experienced contract manufacturer.
How do I find a Contract Manufacturer who I can trust?
A couple of things to look for in a Contract Manufacturing partner…
Experience – have they done this for a long time, and have they worked on devices similar to yours? There is a lot of detailed knowledge involved in designing packaging, assembling, sterilizing and testing, and you want to ensure you pick a partner who has worked with many different types of devices and packages.
Referral – ideally, it is always best to have a positive referral from another customer who has worked with that contract manufacturer. If you trust them, they can vouch for the effectiveness and protocols that the partner has in place.
Visit, visit, visit – it is important to visit the facilities of potential partners before agreeing to turn over the packaging of your device. You want to see the cleanroom, production lines, laboratory if they have one, and the overall layout of their manufacturing and warehouse space. Also, talk to key personnel to understand their experience and how they have handled projects similar to yours. Ultimately, you are building a trusting relationship and you want to determine that the partner you hire is an expert in medical device packaging and assembly. You also want to look for signals that they will prioritize your project and treat your device as if it were their own.
ISO 13485 – lastly, it is always a good signal if the contract manufacturer is ISO 13485 certified and has a certifying body who regularly verifies that they are adhering to the appropriate standards and conditions required.