Medical Device Outsourcing – Reduce Costs and Headaches
Nov 05, 2020 by PRO-TECH Design
When considering whether to outsource the packaging and assembly of a medical device, companies often overlook some of the hidden costs and headaches that come with trying to do it on their own. While at first glance it may seem beneficial to keep a project in-house, after looking at the whole picture, companies often find that it is better to outsource. Some of the elements that are often neglected when making this decision are the embedded costs and growing pains associated with investing in and certifying a clean room, hiring experienced operations staff, buying specialized equipment, creating new processes, and navigating regulatory requirements.
To ensure the safety of a Class I, II or III medical device during assembly and packaging, the FDA requires a clean environment controlled to restrict outside contaminants. However, building and maintaining a Class 10,000-level cleanroom along with the space needed to house it can be expensive and resource intensive; particularly when you are a small or medium-sized company that may not need to run products every day.
The costs of the additional building space needed to house a cleanroom, to run the cleanroom 24/7 whether using it or not, and paying for all the staff and processes need to run it should to be taken into account when evaluating whether to develop these capabilities in-house or to outsource.
As a medical device contract manufacturer, we have seen many customers come to us without having considered the full impact of the in-house vs outsourcing decision. Often it is after months of trying and they have already invested significant time and money only to come to the realization that it is too much for them to maintain on their own and it's not the best use of scarce resources. We have also worked with many companies that have assembled and packaged their products in-house for years only to conclude that they have outgrown their capacity or realized that it may not be an efficient use of capital.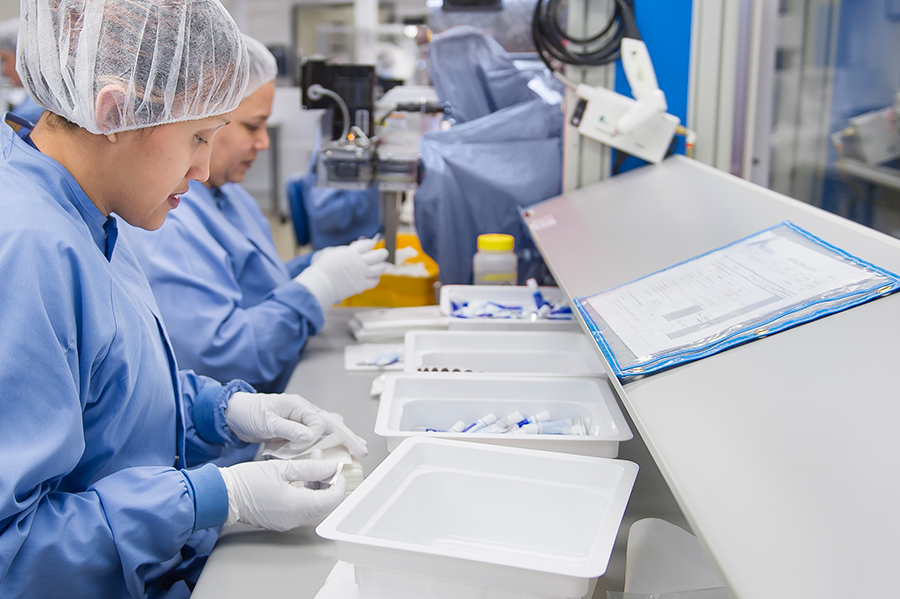 Some of the questions that we encourage potential customers to consider are:
How often do you plan to run this product? Is it worth 24/7 overhead costs if you run products on a limited or even full-time basis?
Are you prepared to navigate FDA requirements to ensure that you are in full compliance throughout the production, packaging, and sterilization management process?
 Do you have the expertise in-house to train your assembly team to be as efficient as possible?
What are the true costs (direct + indirect) and resources of packaging and assembling your own device?
o Make sure to consider costs such as:

additional square footage
cleanroom construction costs and ongoing overhead
equipment installation and validation
ongoing payroll and training costs for Operators/QC personnel/Engineers to support the cleanroom operation
We have found that when companies fully consider these questions, they have a better understanding of the value of outsourcing packaging and assembly to a trusted contract manufacturing partner that has expertise in all these areas. Additionally, the partner is already set up to handle issues they often have not even considered.

With 40 years of medical contract manufacturing experience, PRO-TECH Design has seen just about every situation and can help design a solution that meets the unique needs of any customer. We can help you reduce costs and improve speed to market, while ensuring strict attention to quality standards and regulatory requirements. We provide peace of mind with transparent tracking at each stage of the production process.

Please contact us to help with your next medical device packaging and/or assembly project.